SRI Sukuk: The Journey Towards Sustainable and Responsible Investment
The world is changing across all fronts, necessitating transformational thinking and attitudes to adapt and then to grow. The same transformation is happening around us in the capital market, with more and more issuers and investors are seeking to make an impact with their investments, by exploring Sustainable and Responsible Investment (SRI).

Today, SRI have transformed from niche products into mainstream capital market offerings, as more discerning investors shift towards climate friendly activities, to minimise their impact on the planet. In fact, the capital market plays a critical role in providing funding to drive SRI.

In realising the world's sustainable development needs, a significant amount of funding is required. Based on estimates by the United Nations Conference on Trade and Development (UNCTAD), to achieve the global Sustainable Development Goals (SDGs), the world would need total investment of between US$5.0 trillion and US$7.0 trillion (RM17.5 trillion and RM24.5 trillion) per annum until 2030.

During the same period, the SDG investment needs in developing countries is estimated at between US$3.3 trillion and US$4.5 trillion (RM11.5 trillion and RM15.7 trillion) annually, mainly for basic infrastructure. To reach the goals of the Paris Agreement, US$12.1 trillion (RM50.5 trillion) is needed for investments in new power generation facilities from renewable sources over the next 25 years, and as much as US$500 billion (RM2.1 trillion) of new investments annually by 2030 to adequately limit the greenhouse gas emissions of developing countries.

Chart 1: Global Green Bond Issuances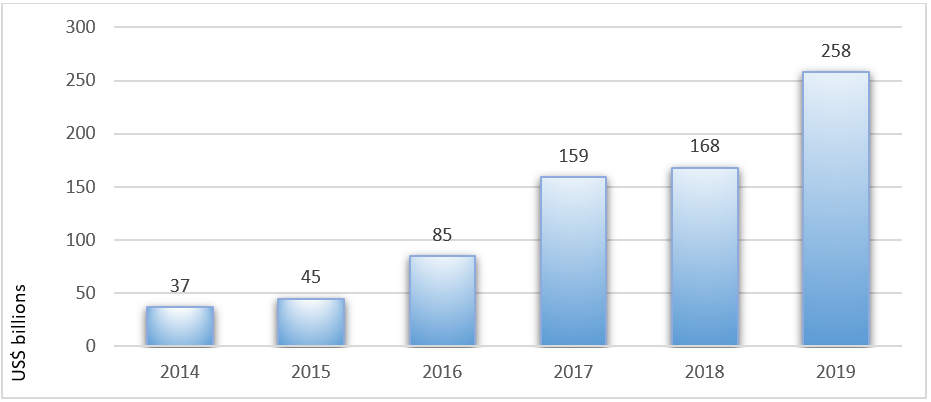 Source: Climate Bonds Initiative (CBI)
Chart 2: Global SRI Assets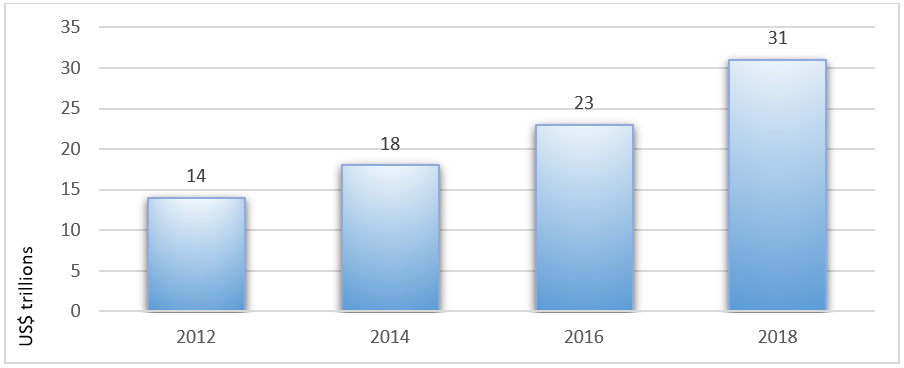 Source: Global Sustainable Investment Review 2012 – 2018, Global Sustainable Investment Alliance (GSIA)
This bodes well for Malaysia as we have embraced sustainable development in all its facets, to benefit the society as a whole as well as to support the fight against climate change.

Malaysia has been driving the SRI agenda since 2014, when the Securities Commission Malaysia introduced the Sustainable and Responsible Investment (SRI) Sukuk Framework, Guidelines on SRI Funds, and implemented the ASEAN Green, Social and Sustainability Bond Standards, as well as the SRI Roadmap for the Malaysian Capital Market in 2019. All these initiatives aim to facilitate the development of an ecosystem that promotes SRI.

With the issuance of the world's first green sukuk in 2017, Malaysia has earned the World Bank Group's recognition as the pioneer in harnessing the capital markets to support the United Nation's SDGs. At the regional level, Malaysia hosted the inaugural issuance of an ASEAN-labelled sukuk in 2017 which was dually recognised under the SRI Sukuk Framework. Malaysia continues to accelerate the development of SRI sukuk and ASEAN-labelled green, social and sustainability bonds, providing RM5.3 billion (cumulative April 2020) financing for eligible projects. In addition, there is also the USD 680 million CIMB SDG Bond, issued under the ASEAN Sustainability Bond Standards in 2019.

SRI Sukuk
Since the introduction of the SRI Sukuk Framework, there are a total of 13 SRI sukuk issuances in Malaysia, including 7 SRI sukuk issuances which are dually recognised under the ASEAN standards (cumulative April 2020).

In the green SRI sukuk space, RM4.3 billion of green SRI sukuk has been issued, making up more than 90% of SRI sukuk issuances, financing 482 megawatts of renewable energy projects in Malaysia (cumulative April 2020).
Chart 3: Breakdown of SRI Sukuk issuances in Malaysia as at April 2020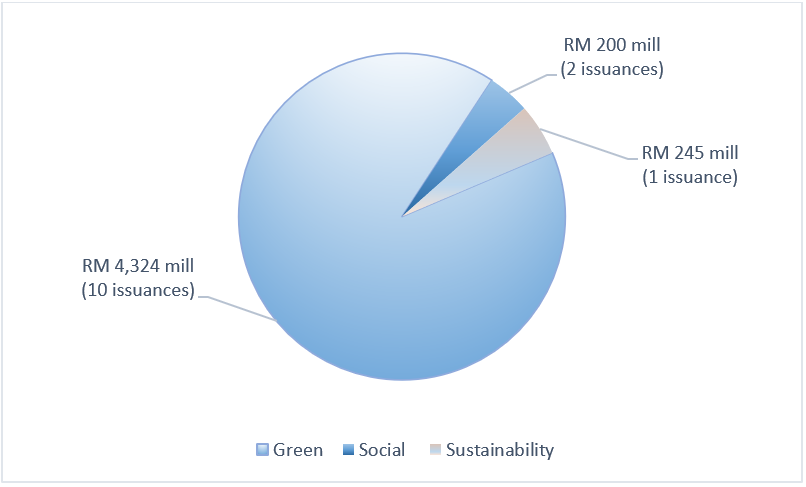 Source: Securities Commission Malaysia
Chart 4: Total Issuances under the SRI Sukuk Framework and ASEAN Green, Social and Sustainability standards in Malaysia as at April 2020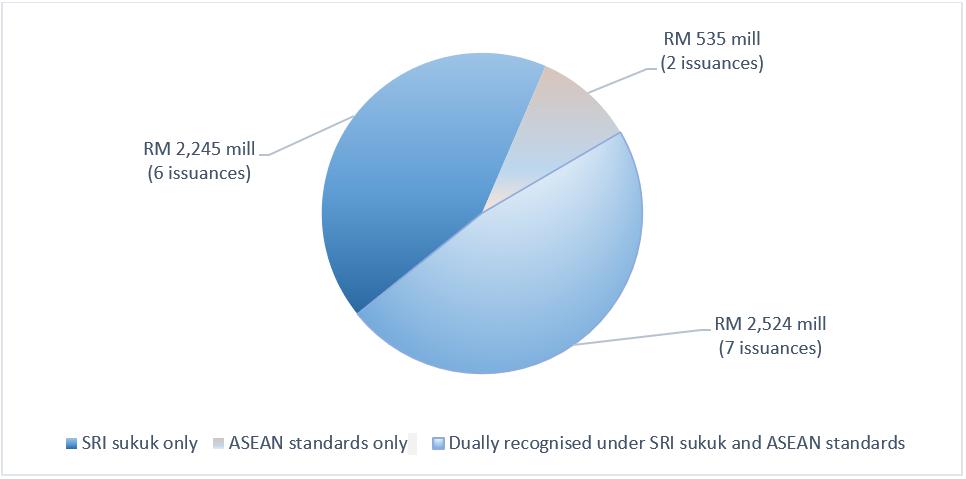 Source: Securities Commission Malaysia
About the Sustainable and Responsible Investment Centre
A one-stop resource centre on SRI sukuk and ASEAN-labelled bonds in Malaysia for greater transparency and access to information by issuers, investors, capital market intermediaries, research analysts, academicians and the general public.

Relevant stakeholders should continue to work together in accelerating the development of SRI sukuk and ASEAN-labelled green, social and sustainability bonds as an asset class to meet the financing and investment needs of a green and sustainable economy, thereby strategically positioning Malaysia as a regional SRI centre.
Disclaimer
This report has been prepared and issued by Bond and Sukuk Information Platform Sdn Bhd ("the Company"). The information provided in this report is of a general nature and has been prepared for information purposes only. It is not intended to constitute research or as advice for any investor. The information in this report is not and should not be construed or considered as an offer, recommendation or solicitation for investments. Investors are advised to make their own independent evaluation of the information contained in this report, consider their own individual investment objectives, financial situation and particular needs and should seek appropriate personalised financial advice from a qualified professional to suit individual circumstances and risk profile.
The information contained in this report is prepared from data believed to be correct and reliable at the time of issuance of this report. While every effort is made to ensure the information is up-to-date and correct, the Company does not make any guarantee, representation or warranty, express or implied, as to the adequacy, accuracy, completeness, reliability or fairness of any such information contained in this report and accordingly, neither the Company nor any of its affiliates nor its related persons shall not be liable in any manner whatsoever for any consequences (including but not limited to any direct, indirect or consequential losses, loss of profits and damages) of any reliance thereon or usage thereof.