Bursa, CIMB Ink Deal to Hasten ESG Adoption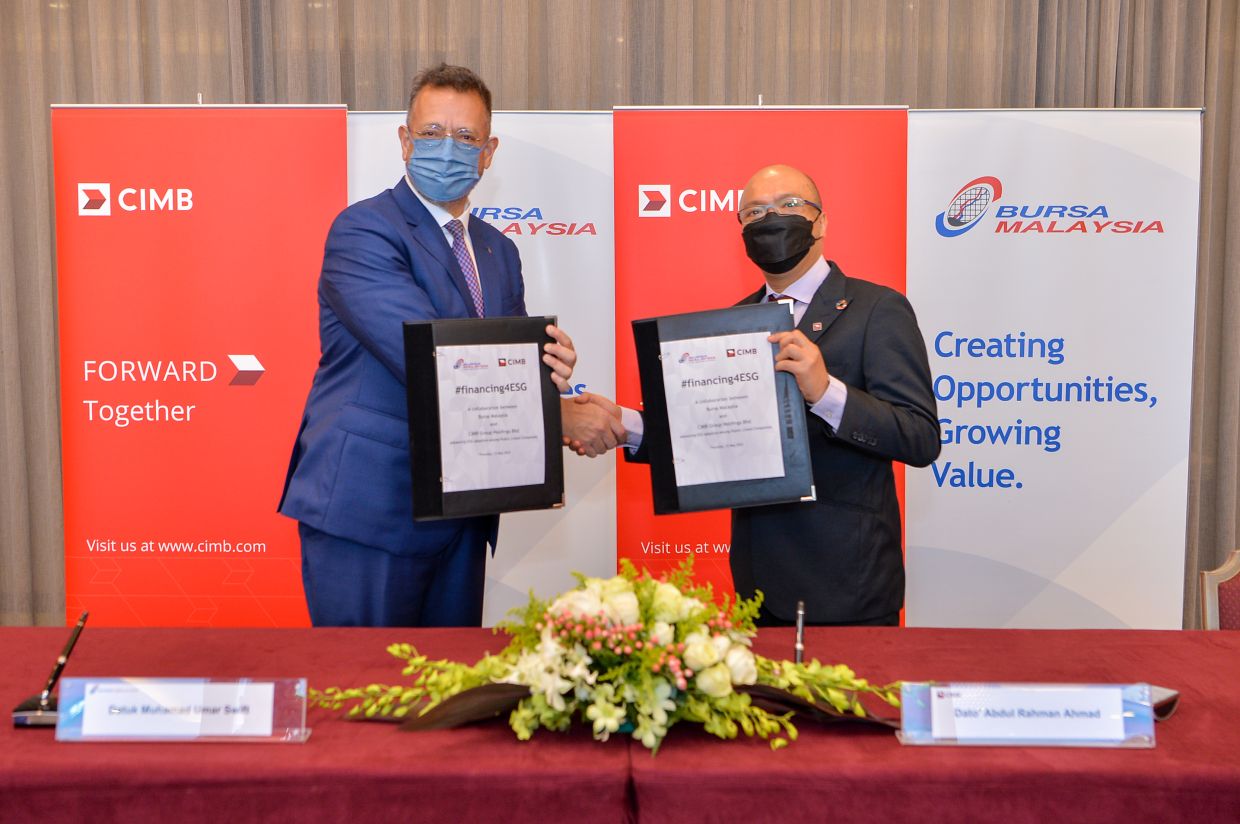 Bursa Malaysia CEO Datuk Umar Swift (Left) and CIMB group CEO Datuk Abdul Rahman Ahmad (right). Source: TheStar
Bursa Malaysia Bhd and CIMB Group Holdings Bhd have entered into a memorandum of understanding (MoU) to accelerate the adoption of environmental, social and governance (ESG) practices among Malaysian public listed companies (PLCs) through the #financing4ESG initiative.

Under the MoU, CIMB will collaborate with Bursa Malaysia to offer sustainable finance offerings for Malaysian PLCs in alignment with the ratings model of the FTSE4Good Bursa Malaysia (F4GBM) index.

In a joint statement, it said the collaboration aimed to help PLCs improve their sustainability performance and ratings for inclusion into the index, and also support their transition towards more sustainable business practices through various green, social, sustainable impact products and services (GSSIPS) offered by CIMB.

As part of the collaboration, Bursa Malaysia will also coordinate joint engagement and onboarding sessions for eligible PLCs together with CIMB on the F4GBM framework, as well as the group's solutions under its GSSIPS Framework.

It said these solutions may include CIMB's existing ESG offerings such as sustainability-linked loans and sustainability-linked treasury solutions for corporate clients, which encourage sustainable practices by providing financial incentives to the clients based on their achievement of pre-agreed sustainability performance targets.

"As ESG compliance and disclosure have become a global demand, we are pleased to have CIMB together with us on our journey to enable Malaysian PLCs to become regional leaders in the ESG space," Bursa Malaysia chief executive officer Datuk Muhamad Umar Swift said.

"Being one of the largest banks in Malaysia, CIMB is in a position of influence to encourage its clients to adopt ESG best practices," he added.


Disclaimer

The information provided in this report is of a general nature and has been prepared for information purposes only. It is not intended to constitute research or as advice for any investor. The information in this report is not and should not be construed or considered as an offer, recommendation or solicitation for investments. Investors are advised to make their own independent evaluation of the information contained in this report, consider their own individual investment objectives, financial situation and particular needs and should seek appropriate personalised financial advice from a qualified professional to suit individual circumstances and risk profile.
The information contained in this report is prepared from data believed to be correct and reliable at the time of issuance of this report. While every effort is made to ensure the information is up-to-date and correct, Bond and Sukuk Information Platform Sdn Bhd ("the Company") does not make any guarantee, representation or warranty, express or implied, as to the adequacy, accuracy, completeness, reliability or fairness of any such information contained in this report and accordingly, neither the Company nor any of its affiliates nor its related persons shall not be liable in any manner whatsoever for any consequences (including but not limited to any direct, indirect or consequential losses, loss of profits and damages) of any reliance thereon or usage thereof.